Health
Ai marketing 5g smartphones nanotechnology developments A-levels: Three more Oxford University colleges to honour offers
Image copyright Simononly Image caption St Edmund Hall, Oxford will admit all 2020 offer-holders from the UK Three more Oxford colleges have said they will honour all the places offered to UK students, irrespective of their A-level results.There has been anger since Thursday when 40% of awarded A-level grades were lower than teachers' predictions. Jesus…
Ai marketing 5g smartphones nanotechnology developments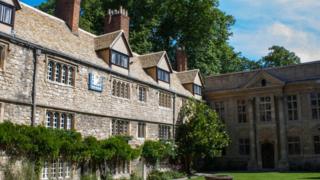 3 more Oxford colleges have said they will honour all the places used to UK trainees, irrespective of their A-level outcomes.
There has been anger since Thursday when 40%of awarded A-level grades were lower than teachers' predictions.
Jesus College, New College and St Edmund Hall will admit all students provided deals earlier this year.
Oxford University said colleges had used places to more than 300 trainees who missed their grades.
Worcester College and Wadham College stated earlier they were giving locations to all their UK offer-holders.
In a declaration, St Edmund Hall said: "To relieve the stress and anxiety and unpredictability surrounding the appeals process, and support our strong tactical commitment to access, equality and variety in our admissions process, the college has taken the choice to make deals unconditional for all applicants whose places were not initially verified."
New College tweeted: " New College can verify we have concluded the evaluation of our impressive offers, and is delighted to reveal that all undergraduate deals made in 2019/20 have actually been verified."
Jesus College said it has " confirmed locations for all our 2020 offer-holders, for either this year or next"
An Oxford University spokesman said the number of students confessed without meeting entry requirements was "even more than in previous years", including: "The frustrating majority of these are UK state school prospects from disadvantaged backgrounds.
" As a result our UK state school intake this year presently stands at 67.8%- an increase of 5.7%compared to 2019."
Information from Ofqual shows independent schools saw an increase of 4.7%in the number of students securing A or A * grades from 2019, compared with 2%for state schools.
The examinations regulator is evaluating its guidance on how to appeal against A-level and GCSE grades using mock exam outcomes.
In England, 36%of entries had a lower grade than instructors anticipated and 3%were down two grades after exams were cancelled due to the coronavirus pandemic.
Subscribe to Reel News
We hate SPAM and promise to keep your email address safe