Health
Ai marketing 5g smartphones nanotechnology developments Stars sign open letter supporting Polish LGBT rights
Image copyright Getty Images Image caption L-R: James Norton, Isabelle Huppert, and Margaret Atwood Writer Margaret Atwood and actor James Norton are among the prominent names who have signed an open letter in support of Poland's LGBT communities.Published on website Wyborcza.pl, the letter calls on the Polish government "to stop targeting sexual minorities".Addressed to the…
Ai marketing 5g smartphones nanotechnology developments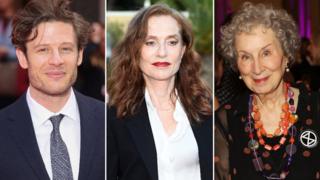 Writer Margaret Atwood and star James Norton are amongst the prominent names who have signed an open letter in support of Poland's LGBT communities.
Released on site Wyborcza.pl, the letter calls on the Polish government "to stop targeting sexual minorities".
Dealt With to the EU Commission's president, it demands "immediate steps" to safeguard LGBT rights in Poland.
Polish president Andrejz Duda has stated the LGBT motion is "more damaging" than communism.
The Polish federal government has actually regularly used inflammatory language versus the LGBT neighborhood.
Poland does not currently recognise same-sex unions – whether those are marital relationships or civil unions. Same-sex couples are likewise legally banned from adopting children.
The letter, signed by lots of writers, filmmakers and stars including Ed Harris, Pedro Almodóvar, Deborah Levi, Isabelle Huppert, Anne Enright, Stellan Skarsgaard, Mike Leigh, refers to demonstrations earlier this month.
The letter checks out: "On Friday, 7 August 2020, 48 individuals were detained in Warsaw – in many cases quite brutally – and detained on the grounds that they had actually taken part in a violent illegal gathering.
" In truth, they were engaged in a serene protest in uniformity with an LGBT activist called Margot, who had actually been apprehended for harming a homophobic advocate's van. Her group had actually likewise put rainbow flags over statues, consisting of a statue of Christ."
Prime Minister Mateusz Morawiecki denounced the activists at the time, saying the statues symbolise values that are very important to millions of Poles.
The letter includes: "Homophobic aggressiveness in Poland is growing because it is excused by the ruling party, which has chosen sexual minorities as a scapegoat without any regard for the safety and wellness of people."
Last month, the EU said it would reject funding to six Polish towns that stated themselves "LGBT-free zones."
Helena Dalli, the EU's commissioner for equality, tweeted: "EU worths and essential rights should be respected by Member States and state authorities."
Follow us on Facebook, or on Twitter @BBCNewsEnts If you have a story recommendation e-mail entertainment.news@bbc.co.uk
Subscribe to Reel News
We hate SPAM and promise to keep your email address safe